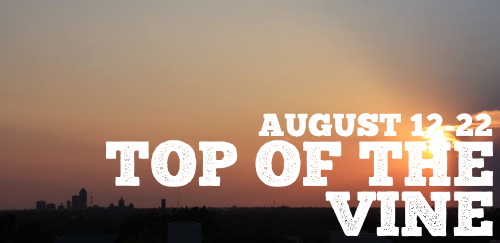 Top of the Vine
Date: August 12th-22nd
Location: Des Moines - Iowa State Fairgrounds Map
Event Link: Website
Event Link facebook: Iowa State Fair
Event Link twitter: @IowaStateFair


VOLUNTEER SIGNUP IS -


Saturday, June 5th at 8:00AM CST


*You must be 21
*Shifts are from 10am-4pm and 4pm-11pm each day
**You will choose a shirt and size when you signup. Shirts this year will feature the "beer" logo at both locations, and an option for "wine" at Top of the Vine. - (Green, Light Gray, Heather Navy) VIEW SHIRTS HERE

*You will be allowed to signup 1 extra person only during your signup
*The back will say "Crew, Nothing Compares to the 2021 Iowa State Fair"
*If you signup for 3 or more shifts, you will receive 2 shirts of the same color.


Wine list: COMING SOON


Beer list: COMING SOON


Volunteer Positions
SERVING - This is the most desired position at the Iowa Craft Beer Tent each year. You will be stationed at a trailer with 13 taps. This year we will provide more room behind the bar to allow movement for you to serve all 13 beers to customers. When you arrive you will be allowed to sample a few beers you may not have tried yet. After sampling a few beers, drinking is not allowed behind the counter. You will be allowed a lunch break during your shift (trust us, finding food is not a problem). You will also receive 1 shirt, a gift certificate, 2 drink tickets, and a ticket to get you into the fair. Transportation and parking is your responsibility. The shirt and gate ticket will be handed out at an all volunteer meeting at noon on August 8th at the Iowa Craft Beer Tent on the fairgrounds.

TICKET & WRISTBANDS ‐ Are you good at math and comfortable handling money? Then this may be the job for you. You will be responsible for selling beer tickets to customers. If you are working nights, you will also have the best view of the band perched high upon your retro bar stools. We need to make sure everyone drinking beer is 21, it's the law. This is a pretty easy going relaxing job of checking ID's and applying wristbands. Wristbands may also be asked to help with ticket sales if it is needed. You will also receive 1 shirt, a gift certificate, 2 drink tickets, and a ticket to get you into the fair. Transportation and parking is your responsibility. The shirt and gate ticket will be handed out at an all volunteer meeting at noon on August 8th at the Iowa Craft Beer Tent on the fairgrounds.

SETUP ‐ We added this position last year and it was a great help, and fun. You will help with whatever needs done to help setup for the fair. You must be a hard worker and willing to help with any task that needs completed. You will receive 2 drink tickets, shirt, ticket to visit the fair at a later date (no ticket is needed on setup days), and we will buy you lunch. We have become very stream lined at setting up the fair so this job has become much more relaxed over the years. You will also receive 1 shirt, a gift certificate, 2 drink tickets, and a ticket to get you into the fair. Transportation and parking is your responsibility. The shirt and gate ticket will be handed out at an all volunteer meeting at noon on August 8th at the Iowa Craft Beer Tent on the fairgrounds.

TEARDOWN ‐ All good things must come to an end. Last year we thought a few extra hands that haven't been working for 14 days straight would of been great. You must be a hard worker, as we will take down everything except the tent before 5PM the day after the fair. We will provide lunch, drinks, a shirt, and a few other goodies to make it worth your while. At this point, we are so tired who knows what we will give you. You will also receive 1 shirt, a gift certificate, 2 drink tickets, and a ticket to get you into the fair. Transportation and parking is your responsibility. The shirt and gate ticket will be handed out at an all volunteer meeting at noon on August 8th at the Iowa Craft Beer Tent on the fairgrounds.

How to find us -