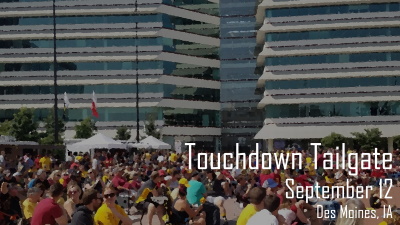 5th annual Touchdown Tailgate
COVID UPDATE: We are waiting to see what the status of the NCAA college football season is in 2020 before we proceed with this event. We expect that decision will be within the next 45 days. We will also have to comply with the state rules for large events.

FREE ADMISSION -

What:
The 2020 Touchdown Tailgate Party Headquarters will be held September 12th on Cowles Commons in downtown Des Moines. The Iowa Craft Beer Tent will be open serving both craft beers and mass domestic options. Come to watch the big game on the 40' TV.

When: September 12th. Times to be determined when the game time is announced.

Where: Cowles Commons in downtown Des Moines. (old Nollen Plaza space)

Why:
To showcase and welcome people to the city of Des Moines during the intrastate rivalry game. Enjoy the biggest tailgate in Des Moines with no admission fee!


Volunteer spots: - COMING SOON


Facebook event page: - COMING SOON


Beer list: COMING SOON


Food vendors: COMING SOON